How it works
Submit an enquiry to a product.
Wait for a call from nearest supplier from your area.
Get quote and product details.
Choose best from them.
Recently Added Suppliers
New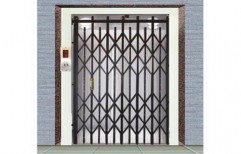 Gulf Elevators
from Ahmedabad
For many years, we are in the business of manufacturing and supplying qualitative Elevator Collapsib.
New
Frequently Asked Questions on Elevator Doors
1. What is elevator door
The elevator door is an electric door that is operated by powered, it is only made by metal. Elevator door
can install in commercial places, official places, and residential places like-hospital, mall, restaurant,
office, etc.
2. How many types of elevator doors
Elevator doors are two types
Automatic door
Manual door
3. What is placebo buttons
Placebo button is a push button which is used in elevator or lift, it is used for opened and closed
elevator door and placebo button is a must for each and every elevator door.
4. How many elevator doors opening types
There are many different elevator door opening types
The mild steel elevator door
Elevator Swing doors
Telescopic elevator door
Elevator collapsible door
Automatic elevator doors
Elevator glass door
5. How many types of elevator control system
There are three major types of the elevator control system such as a single automatic operation,
selective collective operation and group automatic operation.
6. What is the elevator door price in India /elevator door price
Elevator door price
| Product Name | Price |
| --- | --- |
| collapsible door | Rs 2750/piece |
| Imperforated door | Rs 4500/Piece |
| Steel Swing door | Rs 8000/Piece |
| Telescopic doordoors | Rs 8000/Piece |
| Sliding Elevator Door | Rs 20,000/ Piece |
7. What is the elevator door height
The standard size of the elevator door is 36 inches wide but the height is dependent on the cab size
the proposal of G.C.E. for cab height is 6 feet 8 inches, 7 feet, and 8 feet.
8. What are the elevator door manufacturers
Top five safety doors manufacturer in India
| Manufacturer Name | City |
| --- | --- |
| Decent Elevators | Ahmedabad, Gujarat India |
| Easy Elevator (India) Pvt. Ltd. | Jaipur, Rajasthan India |
| Uma Shankar Engineers | New Delhi, Delhi India |
| JS ASIA & SON LLP | Greater Noida, Uttar Pradesh India |
| Shree Sai Enterprises, Vadodara | Vadodara, Gujarat India |
9. What are the elevator door safety features
There are many elevator door safety features
Safety brakes
Door sensors
Door closing devices
Hoistway door interlocks
Hoistway safety switches
Door restraints
Emergency evacuation feature
Pit buffers