Featured Suppliers
How it works
Submit an enquiry to a product.
Wait for a call from nearest supplier from your area.
Get quote and product details.
Choose best from them.
Recently Added Suppliers
Product Description
With over 55 years pioneering robots, Panasonic has long been at the forefront of the revolution. Our Parallel Link Robot (PLR), is an easy-to-program, automated assistant for various manufacturing applications. These include placement, insertion, wiring, assembling, dispensing, soldering, and labeling, as well as a combination of multiple applications in one system. Having this kind of automation at the end of a SMT line can help provide consistent quality during final assembly and simplify complicated placements (such as odd form) or operations, and even reduce your costs.
Its simple, direct teaching process uses hand-guided, intuitive operation to replicate human motion precisely. Plus this six-axis robot can run 24 hours a day and, unlike common robots, doesn't require typical engineering skills and computer work to program.
Features & Benefits

Simple, intuitive programming
Configurable for multiple applications
Automation improves quality & throughput
Similar Products
New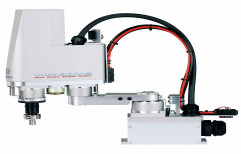 Yamaha Motor Co.,Ltd.
from
Introduces the Extra small SCARA robots. Only this robot has a completely beltless structure in i.