Related Suppliers
How it works
Submit an enquiry to a product.
Wait for a call from nearest supplier from your area.
Get quote and product details.
Choose best from them.
Recently Added Suppliers
About Us
K. J. Enterprise from Ahmedabad, Gujarat, India is Authorized Retail Dealer of Pumping Units, Medical Test Machines. K. J. Enterprise is established in year 1999 and currently having more than 100 employees. Jagannath V. Miskin is Proprietor of K. J. Enterprise. You can contact K. J. Enterprise by sending an email on jagannath_kj2000@yahoo.co.in or directly send an enquiry here.
Company Facts
| | |
| --- | --- |
| Nature of Business | Manufacturer |
| Additional Business | Exporter, Supplier, Service Provider, , Trader |
| Company CEO | Jagannath V. Miskin |
| Key Customers | , Reliance Industries Ltd, S.R. Projects Ltd |
| Registered Address | 45, Union Estate, Next To Small Scale Industrial Estate, Opposite Babu Textiles, Behind Gujarat Bottling Plant, Rakhial, Ahmedabad-380 023, Gujarat, India |
| Industry | Authorized Retail Dealer |
| Total Number of Employees | Upto 10 People |
| Year of Establishment | 1999 |
| Standards & Quality Certifications | SSI Registration No - (240071106435) |
| Legal Status of Firm | Proprietorship Firm |
| Proprietor Name | Mr. Jagannath V.Miskin |
| Annual Turnover | Rs. 1 - 2 Crore |
Our Products
New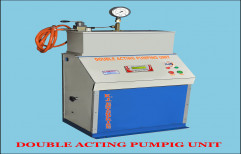 New
K. J. Enterprise Price List
| Product Name | Approx Price | Latest Price |
| --- | --- | --- |
| K.J.E Double Acting Pumping Unit | 1.00/Number | Get Latest Price |
| KJE Iron Circular Manhole Cover Testing Machine, KJE-1112 | 1.00/Number | Get Latest Price |