Related Suppliers
How it works
Submit an enquiry to a product.
Wait for a call from nearest supplier from your area.
Get quote and product details.
Choose best from them.
Recently Added Suppliers
About Us
Pacemaker Solutions from Ahmedabad, Gujarat, India is Authorized Retail Dealer of Robot Controller. Pacemaker Solutions is established in year 2011 and currently having more than 100 employees. Mayank Punit is Partner of Pacemaker Solutions. You can contact Pacemaker Solutions by sending an email on sales@pacemakersolutions.in or directly send an enquiry here.
Company Facts
| | |
| --- | --- |
| Nature of Business | Manufacturer |
| Additional Business | Exporter, Trader, Service Provider, Distributor |
| Registered Address | S/17, Raghuvir Complex, Near Jay Chemical, Odhav- Kathwada Road, Odhav, Ahmedabad - 382 415, Gujarat, India |
| Industry | Manufacturing and Trading of CNC Turning Centers, CNC Lathe Machines, Siemens CNC Control Panel Systems, Retrofitting Services, Spacial Purpose Machines, PLC Panels, HMI Panels, Control Panels, CNC Ma |
| Total Number of Employees | Upto 10 People |
| Year of Establishment | 2010 |
| Legal Status of Firm | Partnership (registered) |
| Promoter | Mr. Mayank Gajjar |
| Annual Turnover | Rs. 1 - 2 Crore |
Our Products
New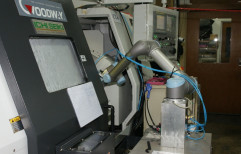 Pacemaker Solutions Price List
| Product Name | Approx Price | Latest Price |
| --- | --- | --- |
| CNC Robotics Controllers | 850000.00/Unit | Get Latest Price |